[NY JAMA'AT] Gift from Alislam team: Holy Quran Advanced Search Engine
[NY JAMA'AT] Gift from Alislam team: Holy Quran Advanced Search Engine
Click here to enter site: HOLYQURAN.SITE
In the name of Allah, The Gracious, The Merciful السلام عليكم و رحمة الله و بركاته Assalam-o-alaikum wa rehmatullah,
All in One Multilingual Support.
English, German, Spanish and Urdu supported currently. Pick your language of choice and start exploring The Revealed Word of God. More languages to come!
From Translations to Arabic.
Users can now go to the Arabic words by searching in meanings in English, Urdu, Spanish or German
Can't type Arabic? Use Phonetics!
Just by writing the equivalent English consonants based on phonetics, users can get their Arabic equivalent words to narrow down to, without typing in Arabic.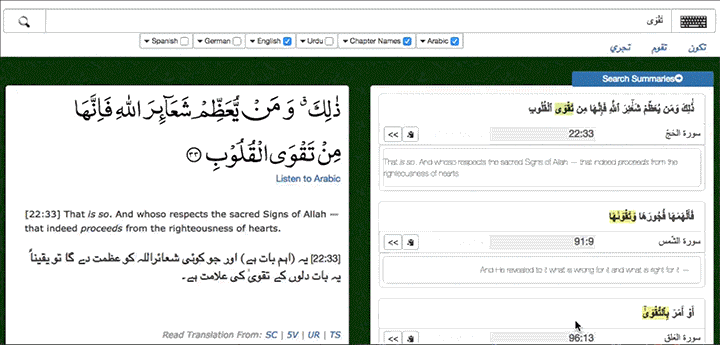 Roots, Stems & advanced Highlighting:
When searching Arabic words, the system understanding their forms and roots, display all relevant verses of the searched terms and highlights accordingly. This relevance could be based on roots, forms and phonetics and can be controlled according to the need.
Holy Quran with 30+ translations

Holy Quran: Browse and Search

Arabic Recitation

Darsul Quran

Tarjamatul Quran

more...